Grow Lapins Cherry Trees in Texas!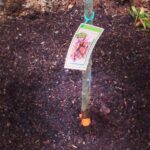 A few months back, my sister said she wanted to give me a tree for my birthday. She asked if I wanted to pick it out or be surprised. I told her to surprise me. She went over to Bob Wells Nursery and selected a Lapins Cherry tree for me! I hadn't heard of the Lapins Cherry but have been pleasantly surprised to find all the great things about it.
The Lapins Cherry is a self-pollinating (you only need one tree) and requires only 400 chilling hours. It bears some of the larges sweet cherries one can find and the fruit is crack resistant. The Lapins Cherry prefers full sun, moist soil (not soggy), and is hardy to -20° F.
If you're looking for a cherry tree to plant in East Texas, you may want to take a hard look at the Lapins Cherry Tree.
What you need to know about The Lapins Cherry
| | |
| --- | --- |
| Family | Prunus avium 'Lapins' |
| Mature Height | Standard: 20 feet |
| Soil | Widely Adaptable |
| Zones | 5-9 |
| Sun Exposure | Full Sun |
| Characteristics | Sweet, Firm |
| Bloom Period | Mid April |
| Pollinator Required | None Required |
| Harvest Period | Early July |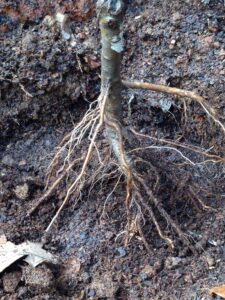 I've posted some pics below of the tree we planted on our East Texas Homestead. If you're new to planting trees, you may be surprised to see me cut the tree down to about knee high. If you want the tree to take off the first year it is in the ground, you need to balance out the amount of tree above the ground with what is below it. A good rule of thumb is to have no more than 1.5 times the mass above the ground as you have roots. This allows the relatively small root mass to drive more energy into putting on new growth instead of keeping the tree alive.
Don't miss the next plant of the week!
I hope you've enjoyed this new series on the Homestead Plant of The Week. If so, let me know in the comments section below. Thanks for reading and don't forget to subscribe to be updated when new articles go out.
[yks-mailchimp-list id="b7aa722b92″ submit_text="Subscribe"]